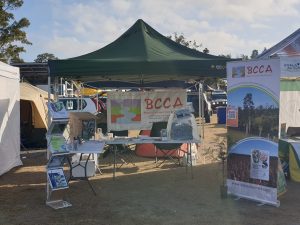 On the weekend, BCCA attended the Off Grid Lifestyle Expo in Goomeri to share information about sustainable agriculture, land management and conservation on private lands in the Burnett Catchment.
Over 120 interested individuals visited our stall over the 1.5 days and were able to see a Greater Glider nesting-box, which is part of our habitat enhancement project for the species.  Also, promotion of our Burnett Koala Program by creating awareness of reporting sightings, how to identify and collect scats and informative resources on tree planting and koala facts.
We also had a display for our Bugs, Beetles and Biocontrol program.  Landholders were also able to see a tent of Cat's Claw Creeper vine with actively breeding Jewel Beetles. They were able to see firsthand the affect the biocontrol beetle has on the invasive vine and receive an informative brochure about the beetles.  Landholders also had the opportunity to become part of the program, with jars of 100 beetles available for release.