Introducing legumes to improve pasture
Year: 2017
Program: Better Catchments
Susan Finger lives South of Mundubbera on a Cattle Grazing property. Sue works hard juggling managing her property in between working fulltime shiftwork at the Mundubbera hospital.
Sue has a passion and determination for learning and developing her knowledge and skills in sustainable land management. She was concerned areas of her property had not been performing well and pasture growth and diversity was limited.
Sue attended a two day Grazing Best Management Practice (BMP) workshop in mid-2016, where she was able to benchmark her grazing practices against industry standards. During the workshop she expressed interest to be involved with the Better Catchments program. Following this, BCCA worked with Sue to prioritise her action plan from the Grazing BMP workshop to then develop a project which would lead to improving her grazing practices. Sue then applied through the Better Catchments program and was successful in receiving a small grant to assist her improve her pastures and introduce legumes across a portion of her property.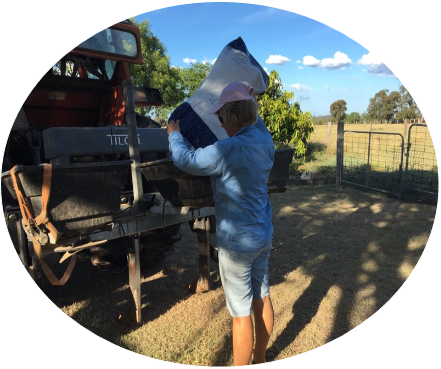 Although Sue had to battle through very challenging drought conditions she was determined to make much needed changes and persisted with the paddock preparations and pasture/ legume planting in early 2017. Her hard work paid off and just in the nick of time ex TC Debbie provided much needed soaking rain to ensure a good pasture establishment. Sue believes her pastures and paddocks have never looked so good.   These improved legumes and grass pastures will over time build soil health and improve ground cover leading to better rainfall infiltration and in turn, more pasture growth.
Program Sponsors
This project was supported by the following partners and investors.