BCCA is getting behind weed control in the North Burnett, and working alongside North Burnett Landcare and North Burnett Regional Council.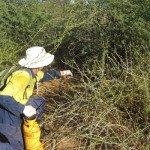 Landholders who are on the floodplains within the North Burnett Regional Council area are strongly encouraged to make the most of the support on offer for weed control thanks to funding from the Burnett Mary Regional Group, under the Natural Disaster Relief and Recovery Arrangements through the Queensland Reconstruction Authority.  This program is only being run in the North Burnett Regional Council area in response to the 2013 floods.
In the northern catchments, north of Grosvenor on the Burnett River, landholders will be able to partner with the North Burnett Landcare group who have a small team of workers starting at the top of the catchment and working their way down each catchment system, including the upper Burnett, Three Moon, Monal, Splinter Creeks and Nogo River.
In the southern catchments of the North Burnett council area the Burnett Catchment Care Association are organising chemical for landholders who apply to control weeds themselves.  These catchment areas include the Burnett River to around Paradise Dam, Auburn, Boyne and Perry Rivers, Cadarga, Cheltenham, Derri Derra, Barambah, Reids, Sunday and Degilbo Creeks. More info – https://betterburnett.com/floodrecovery/
The North Burnett Regional Council are also on board with monitoring and controlling weeds following the floods, targeting certain river and creek stretches as well.
For more information or to register your interest in any of these programs, contact BCCA on 4166 3898 or [email protected]