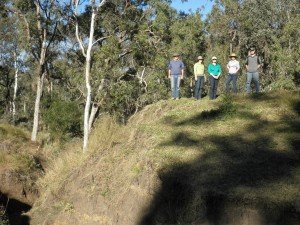 Making the most of the new skills within BMRG recently, the BCCA staff spent a day in the classroom and in the field looking closely at the soils and geomorphology of the local region with BMRG technical officers, Mr Peter Wilson and Mr Marcus Finn.
Here, the team takes a look at a busted dam wall in black soil country near Monto and what might have caused the problem, as well as what influences are continuing to worsen it.
The team will be involved in the Commonwealth and Queensland government funding for flood recovery in the North Burnett in partnership with BMRG.  More information on this to follow over the next few weeks.