It was a busy week last week – long before earthquakes and cyclones demanded our attention – we were taking a good look at some of our dry rainforest species around Mundubbera and Gayndah, identifying them and learning how to collect their seeds.
On Wednesday a group of keen would-be-botanists g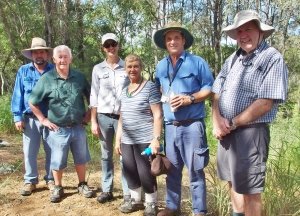 athered in Mundubbera to hear from senior botanists and authors of several plant ID books, Bill McDonald and Gwen Harden, speak about their latest plant ID tool, used on a computer.  Their tool, 'Rainforest Plants of Australia', uses a computer-based identification key to pick out which features plants have – the shape and design of their leaves, the colours of their fruits et c. – and pulls up those plants that fit that description with fantastic photos and great detail.  Following on from some time learning inside, the group headed out to a patch of scrub to test out their identification skills and spot the number of different species.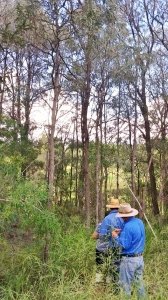 Then, on the weekend, BCCA hosted local botanist Caroline Haskard to teach us what to look for, how to collect and how to propagate our native trees and shrubs from seeds.  A huge thanks to the Zahl and Morris families for having us out on your farms, taking a stroll through the native bushland looking for seeds.  It was a beautiful day and there have been so many seeds out after what has been a fantastic native tree flowering season.