With the assistance of BCCA, senior Agricultural Science students at Monto State High School are now better equipped to assess current property operations and make plans for the future of an agricultural business following completion of Property Management Plans as part of their course work.
BCCA was invited by Monto State High School teacher, Andrew Wallis, to assist students prepare a Property Management Plan for their family property or a property with which they are familiar. BCCA provided students with a Property Management Planning template and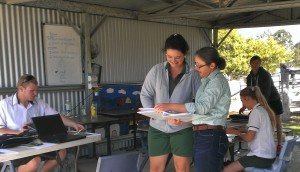 property maps to assist in completion of this task. In addition, Veronica Chapman, BCCA extension officer employed under the Carbon Farming Project, attended 2 lessons with the student to discuss a number of topics including the importance of property planning, components of a property plan and practical ways to incorporate carbon farming into cropping and grazing systems in the Burnett Mary region.
The Carbon Farming Project is supported by funding from the Australian Government. Under this project, BCCA works with graziers and other landholders across the Burnett Mary region to enhance their understanding of greenhouse gas emissions in the grazing sector, strategies to reduce these emissions and store more carbon in the landscape, carbon policy and carbon trading under the Emissions Reduction Fund (ERF).
If you would like more information please contact Veronica on 0448 114 502 or [email protected]