Want to improve the productivity, profitability & sustainability of your grazing business?
BMRG is holding FREE Grazing BMP Workshops in Widgee, Biggenden, Kingaroy & Durong.
Guest speakers for the People and Business Workshop include:
Steve Banney – The business and beef – profit drivers and cost of production § Georgina Tunstall from WorkCover Qld Topics to be covered in this first module include:
Business planning, knowledge and skills
Human Resources and WH&S
Chemical use and records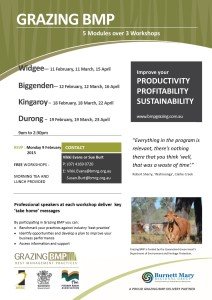 To view dates and locations please see attached flier.
RSVP Vikki Evans or Sue Burt on 07 4169 0720 or email [email protected] or [email protected]