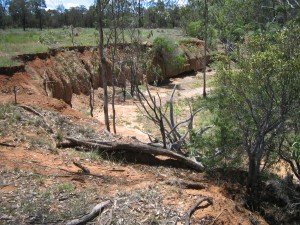 Funding is still available for landholders who have suffered land degredation issues as a result of the floods last Summer in the Burnett Mary region.
You can download the Expression of Interest Form for the current round of funding here:
– Expression of Interest Form – Disaster Recovery Funding.
These funds are specifically targeted at restoration of riparian areas (rivers, creeks, tributaries) that were degraded or eroded by the inundation of water experienced during last Summer's flood event.  The kind of works considered include revegetation, emerging weed control, erosion mitigation and engineering works.
For further information please contact Kate Lyons at Burnett Mary Regional Group on ph. 4181 2999 ext. 107 or email  [email protected]