- by Louise Newman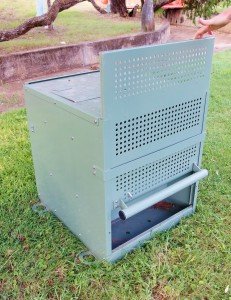 In Mt Perry and Eidsvold last week, AgForce together with North Burnett Regional Council ran a Feral Animal Trapping workshop for landholders and interested people to learn about the latest in pest animal control options, including baiting and trapping.
Left: A 'HogHopper' feral pig baiting station.


I managed to get along to the Eidsvold workshop where Mr Damien Ferguson from AgForce lead demonstrations and discussions about how important feral animal control is to the agricultural industry in Queensland and gave a demonstration on what baiting options there are available – fresh and packaged.  Council Lands Protection Officers were on hand to coordinate upcoming baiting programs with landholders across the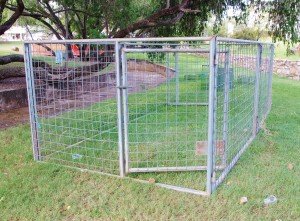 North Burnett coming up at the end of April this year (speak to council to register your interest).  There have been some changes with the use of 1080 and strychnine poisons which regular users will get to know about from council as well.
Left: A wire/steel panel feral pig trap.


Mr Phill Sutherland from Biosecurity Qld and a couple of private trappers from the local area gave practical wild dog trapping advice, which was followed by demonstrations outside to look at how to set up a foot trap, where to place it and what lures to use.  While we were outside we took a look at some of the other traps that had been set up, mostly for the use of trapping pigs and the wide variety of options and designs available.  Council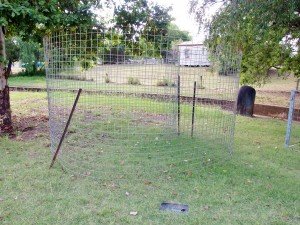 are able to loan out these pig traps (all 3 traps seen here) to North Burnett residents for only the cost of a bond fee.  Phone them on 1300 696 272.
Left: Round silo feral pig trap, 
just in need of a few more steel 
pickets to keep it in place.


The take-home message to everyone there was that we have plenty of options for feral animal control, and if we use as many of them as possible as often as possible there will be a good deal less numbers of feral animals giving producers problems throughout the year.