The Burnett Mary Regional Group's Board of Directors were suitably impressed by the quality of projects they witnessed on a tour of Booubyjan properties a couple of weeks ago. 
The board of directors were firstly taken to Ross and Beth Shanks property, the first project funded through the Better Burnett program, where they were shown the recently installed fence around Tomine creek.  The rock cliffs, outcrops, small caves and rock pools on this creek provide the ideal habitat for the native Brush Tail Rock Wallaby.  The Shanks aim to protect and nurture this environment for the benefit of these vulnerable creatures.  These rock pools were also a great oasis for the tour group on such a warm October day.   
The Rockemer's property "Boonimba" was the final stop on the Better Burnett project tour where the directors were shown the results of fencing to allow for a reduction in overgrazing and an improvement in pasture utilisation.  This consequently leads to reduced erosion and sediment loss, increases in native grasses and legumes and reduced weed infestations.  This was a joint project funded through both BMRG and BCCA's Better Burnett Project. 
Overall, the feedback received from the BMRG Board of Directors was all positive and an enlightening afternoon was had by all.  We would like to thank the landholders for hosting the tour.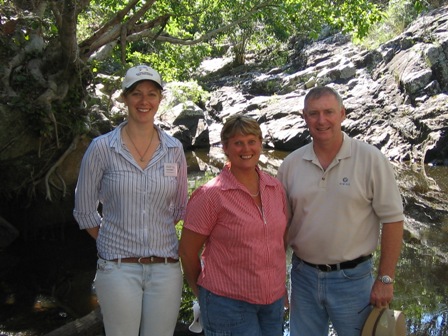 Louise Newman, Better Bush Coordinator; Beth Shanks, property owner and Russell Stewart, Independent Chair, BMRG.
Katie Sibson, Better Beef Coordintor explaining the project at Boonimba to the Board