There will be plenty of options for landholders in the North Burnett Regional Council area for weed control now we have enjoyed the start of some Summer rains.
Flood recovery funding from BMRG in the North Burnett has brought together the North Burnett Regional Council, BCCA and North Burnett Landcare group to cover weed control in the flood affected areas of the region.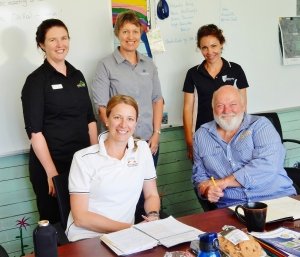 The four groups are all undertaking separate projects – weed control crews walking the creek banks to treat weeds; biocontrol breeding facility maintenance; and chemical provision to approved landholders – but they're all collaborating on what methods are working best for our climate and landholders.
'With funds available through the On-farm and Riparian Recovery program which is supporting primary producing areas severely impacted by flooding following Ex-Tropical cyclone Oswald in 2013, BMRG decided to partner with all three organisations to take advantage of their local knowledge and their individual strengths and undertake different projects. This coordinated approach means we can tackle a variety of issues and have a maximum impact on controlling weeds in the region.' BMRG Flood Recovery Coordinator, Cathy Mylrae said.
The North Burnett Landcare group have a weeds crew who are out along the creeks north of Monto, working their way downstream from the top of the creeks.
'We've been treating mostly Parthenium, but also Cats Claw Creeper and Chinese Celtis where possible, and we've so far treated the Three Moon and Monal Creeks and we're currently in Splinter Creek.' North Burnett Landcare president, Glenn Baker explained.
A similar project is underway under the guidance of the North Burnett Regional Council.
'Our project is monitor and record priority declared plants including Parthenium, Rubber Vine and Giant Rat's Tail populations along Barambah Creek, Boyne River and Auburn River, starting at the boundary of our region and working downstream, They are then treated with follow up treatment being completed by the landholders' North Burnett Regional Council Mayor Don Waugh said.
BCCA are undertaking a council region-wide project where landholders along floodplains and creeks who wish to undertake the weed control themselves can apply for chemicals for approved weeds.
'We've had more than 60 landholders take advantage of this program to control some or all of the six priority weeds on their properties. These include Parthenium, Giant Rats Tail grass, Cats Claw Creeper, Rubber Vine, Madeira Vine and Hymenachne,' BCCA Weeds Coordinator, Louise Newman said.
'I'm pleased that we can all get projects underway, but that they are not stand alone projects and are contributing to other projects in the region', she added.
For more information contact the groups, and to participate in the herbicide program with BCCA give us a call!